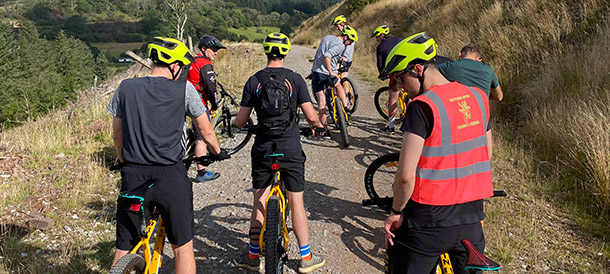 Course Dates
All MIAS Junior/Assistant Leader courses are run on demand. If you would like to talk to us about arranging a course then please contact us.
Course Fees
£110 per person
£50 deposit to confirm booking
Booking
Call 07988 760 720 or e-mail us to book or request more details.
As a precursor to the full MIAS Mountain Bike Instructor Award, this qualification is for individuals under the age of 18. It provides them with the qualification to Assistant Leader (16-18) or Junior Leader (under 16), meaning they can can aid fully qualified instructors on guided rides. It is also the gateway to the fully qualification once they reach 18 at which point they will be invited back to complete the full course at a hugely discounted rate.
We want to provide youngsters with a pathway to a career.
Junior leader courses receive the same input as the full award but riding totally different terrain (Level 1 only).
Level 1
Level 1 is suitable for individuals wishing to lead groups of cyclists on low level terrain such as bridlepaths, canal towpaths, fire roads and family based cycleways.
Level 2 (full qualification only)
Level 2 is for individuals hoping to leads groups of cyclists on more technical terrain such as trail centres or natural riding where the height does not exceed 500 metres and is no further than 20 minutes from a point of rescue. This is for experienced off road mountain bikers with good bike maintenance skills
Level 3 (full qualification only)
Level 3 is for serious mountain bikers who wish to lead cyclists in challenging wild country terrain, above 500 metres and in remote locations, ML award is essential as is excellent MTB skills along with maintenance knowledge.
Course Outline
The course runs over a single day with fully qualified instructors. You will receive all course materials as well as both practical and classroom instruction.
Once registration is complete you will receive input from the MIAS curriculum, carry out a full bike check, practise your bike maintenance skills, have the bike correctly fitted before setting off on a ride suitable for the group. The ride will include risk assessments, effective communication, practical demonstrations and group safety along with an element of map reading. On your return you will complete your own assessments from the ride.
Essential Items
A good quality mountain bike suitable for the activity planned.
Suitable clothing for the duration of ride and weather conditions.
Enough fluids & refreshments for a full days riding.
Relevant skills for award level.
Current valid first aid qualification (training also available).
Please call 07988 760 720 or e-mail us to book a course or request more information.