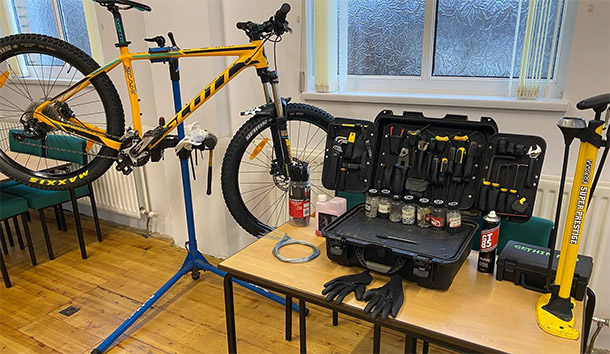 Course Dates
All MIAS Cycle FIT courses are arranged on request.
Course Fees
£250 per person
£50 deposit to confirm booking
WE ALSO OFFER A ONE DAY TASTER SESSION FOR £95 per person, Discount for groups of 4 – great mates day out
Booking
Call 07988 760 720 or e-mail us to book or request more details.
F – Fit appropriate cycle to client
I – Inspect cycle for wear and adjust/replace
T – Test the cycle
Would you love to know how to fix your own bike?
Fix your childrens' bikes?
Fix your grandchildrens' bikes?
Gain qualifications to work in bike shops?
Save a fortune in bills at bike shops?
Then this course is for you!
We will show you how to carry out a full M-check on any bike, identifying, repairing & adjusting any faults found.
Topics Covered
Health & Safety
Types of cycle
Tools required
Pre-ride check
Gear adjustment
Chain splitting
Brake adjustment
Puncture repair
Cleaning & lubrication
Cassettes
Bottom brackets
Headsets/ aheadsets
Wheels
Spokes
Forks
Suspension forks
MIAS accredited courses allowing you to carry out major repairs on any bike.
Please call 07988 760 720 or e-mail us to book a course or request more information.