Gethin MTB are able to provide bikes, guides and routes to make your trip to this cycling hotspot a truly memorable one. Below are some of our more popular routes but we have so much to explore in the area we can easily customise a day's riding to suit your specific requirements – just get in touch!
Just for Kids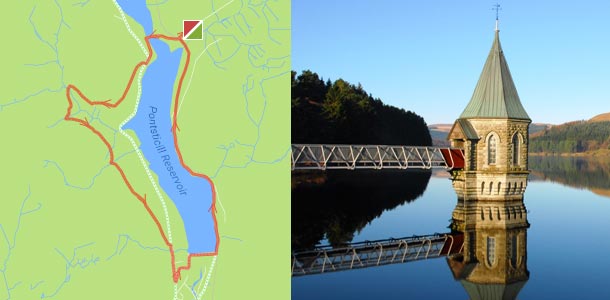 Grade: Green | Distance: 5 miles | Duration: 1-2hrs
This short family route is a must for all the family, explore the beauty of the Brecon Beacons by riding around Pontsticill reservoir. The trail is mostly on fire roads with a little bit of singletrack running parallel to the Brecon Mountain Railway. This ride has amazing scenery and can be completed in less than an hour, but why rush, relax and enjoy the Brecon Beacons
History Tour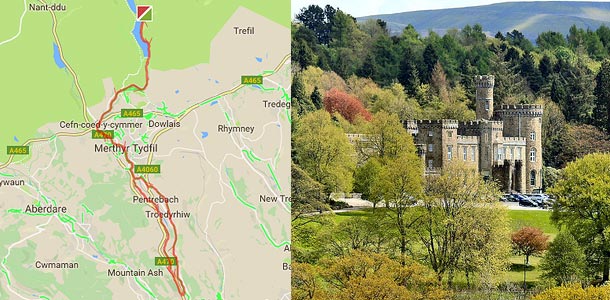 Grade: Green | Distance: 30 miles | Duration: 4hrs
Enjoy amazing scenery whilst learning about the history of Merthyr Tydfil. Our guides will take you on a scenic route passing Cyfarthfa Castle, Morlais Castle, a Curved Viaduct (3rd largest in UK), the site of the old blast furnaces and cycle across the oldest cast iron bridge in the world. You will cycle down the valley before visiting the site of the Aberfan Disaster, the memorial site is optional. The return journey takes in Trevithicks tunnel and the resting place of Crawshay, upon his railed tombstone lay the words Please Forgive Me. Make sure you bring a camera!
The Bay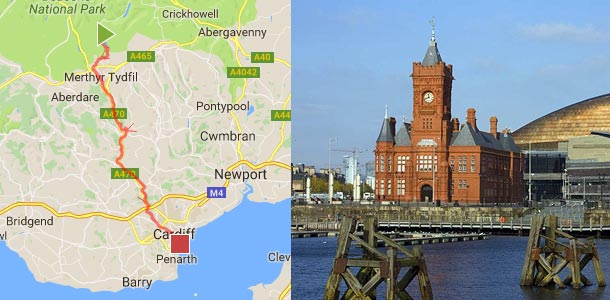 Grade: Blue | Distance: 55 or 25 miles | Duration: 6 or 3hrs
This is a firm favourite of all cyclists, charity rides and social events. Follow the Taff Trail from Brecon through the beautiful Welsh Valleys to Cardiff Bay. There is no need to rush on this one, or worry about getting back, transport can be provided on request! The trail is easy to follow with many refreshment stops along the way, coffee shops and local pubs welcome the tourist on two wheels. Sit back in Cardiff Bay and admire the Welsh Coastline, an ideal trip for the Stag or Hen party wanting to see a bit more of Wales.
Waterfalls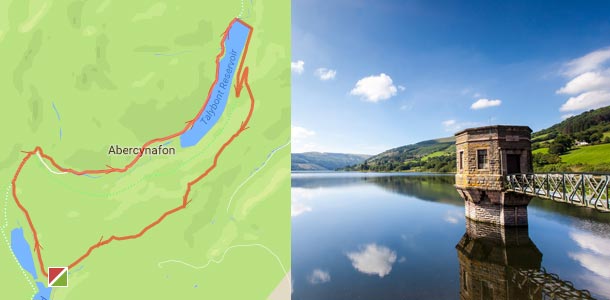 Grade: Red | Distance: 14 miles | Duration: 2-3hrs
This amazing ride is graded Red (to Black) due to the remote nature of the terrain. Cycle from Pontsticill along gentle fire roads before descending into Talybont Valley via steep, fast, rocky paths, trees overhanging with the ever present river running just inches away, waiting to catch the best of bikers. Just as you recover, dig in for a gruelling climb with scenery to die for, this is the best view of the Brecon Beacons. Take on some fluids before descending a mile long rock garden terminating at the a welcoming cafe. A full suspension bike is recommended for comfort although a hardtail will be just fine. Experienced bikers only on this one, a novice could be put off for life!
Blue Pool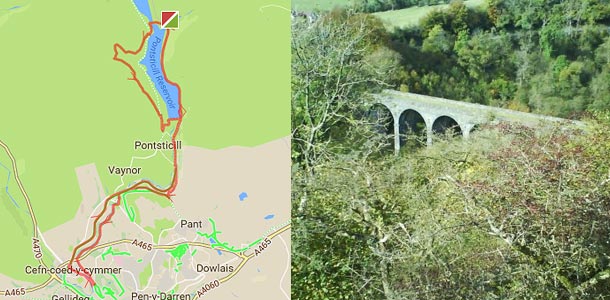 Grade: Red | Distance: 15 miles | Duration: 2-3hrs
If you are looking for a challenge then look no further, rock gardens, jumps, root chutes and the thrill of riding South Wales most secret singletrack. This ride has it all, graded Red due to the nature of the terrain, demanding, technical and exhausting. There are no trail centre manicured surfaces to be found anywhere, a test for your body, your bike and your skill. Providing there are no real mechanical issues or injuries this ride should be completed in less than 3 hours, this is one to remember.
The Gap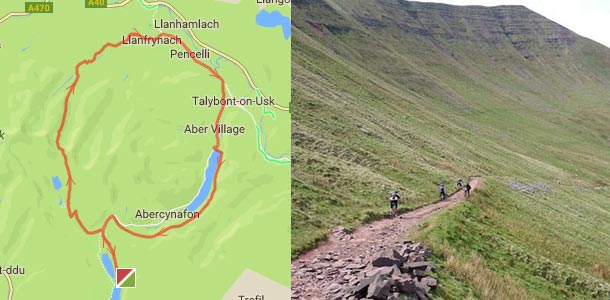 Grade: Red/Black | Distance: 23 miles | Duration: 4-5hrs
Not for the faint-hearted or anyone afraid of heights! This ride climbs gently from Pontsticill, following the remains of an old roman road to a height of 550 metres! This is where you will pass through the famous Gap, a trail which runs through the highest point of the Brecon Beacons. Brace yourself for one of the most exciting descents for the hardiest of mountain bikers. 5 miles of brutal rock garden, your eyes glaze over as you pass crevice after crevice, your forearms pumped and fingers screaming for you to pull over and take a breather. Gather your thoughts at the halfway point before begging your legs to keep going, another climb, another false summit. The scenery is breath-taking but you can't take it all in. Another rock garden brings you safely back to your start point, this is one ride which will stay in your memory for a very long time. (There is an opportunity to ride just half of this route, to enjoy a glass of wine or a few beers with your food at the halfway point. Advanced booking is required to secure transport and a table at the village restaurant.)